Crockmeter machine to test the color fastness of textiles to dry or wet rubbing. Also named rubbing fastness tester.In the crocking test, a reliable Crockmeter plays a vital role in the repeatable and reproducible results.
How Rubbing Fastness Tester Crockmeter Works?(dry or wet rubbing test)
1. Dry Rubbing:
1.1 Properly mount your specimen and test cloths. The counter has to be reset by moving the knob on the left side of the counter. The finger is positioned on the specimen at the base's front end and handle is rotated in the clockwise direction at the rate of approximately 1 revolution per second. The handle is then rotated equal to the number of strokes specified by the test method.
1.2 When the desired number of strokes is reached, the crocking cloth is removed from the finger and its degree of staining has to be evaluated by SDC grey scale.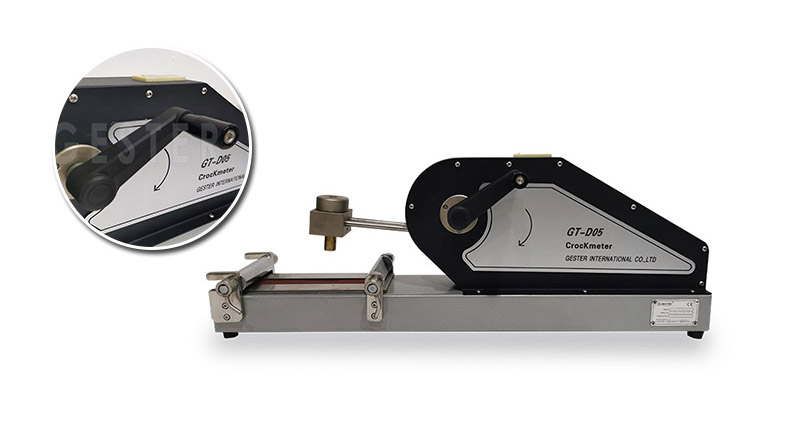 2. Wet Rubbing:
2.1 A fresh piece of crocking cloth is soaked in distilled water and the excess water is removed so that it contains its own mass of water.
2.2 The wet piece of the crocking cloth is fixed over the end of the finger of the Crockmeter and the test is undertaken.
2.3 The dyed or printed fabric has to be mounted on a lower platform.
2.4 Then 10 cycles are rubbed with a white fabric, which is mounted on a peg in the upper rubbing arm.
2.5 Then the extent of color that rubs away onto the white fabric against a color transference scale has to be determined.
2.6 The rubbing action of the peg+ enabled fibers from the upper colored flannel fabric surface to be transferred onto the white backing fabric mounted on the lower platform.
2.7 The cloth is then removed to evaluate the discolor level in comparison with a gray-scale.
GESTER rubbing color fastness tester has Electronic Crockmeter GT-D04 and Manual Crock Meter GT-D05, easy to operate, intelligent control panel, fine workmanship, using high-quality metal, more sturdy durable.

GESTER instruments, specializing in the production and sales of various testing instruments and equipment, we are committed to becoming a one-stop testing instrument service provider. Profession determines quality, and strength achieves the future. Your quality management consultant! Our company provides high-quality after-sales service for our customers. All products sold by our company are guaranteed for one year (except for human reasons and consumables), and lifetime service. Customer satisfaction is our service tenet, and perfect after-sales service will relieve you of all worries!