EN Sole Flexing Tester is also known as the outsole bending tester, which is a footweartesting device intended to determine the resistance of outsole to continuous flexing at90° angle with a constant bending rate. lt is widely applicable to a variety of outsoles of footwear.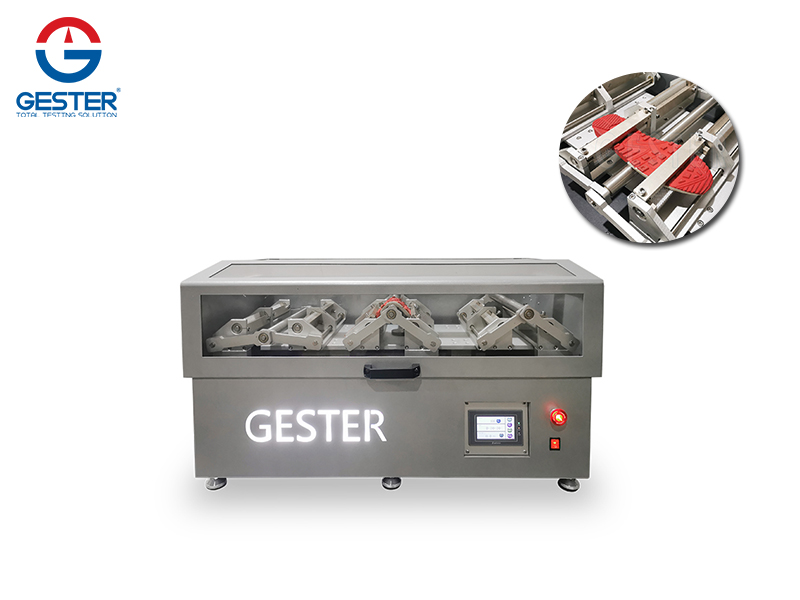 Shoe Sole Flexing Resistance Test pinciple
Shoe Sole Flexing Resistance test piece fastened to the clamps is incised by a cutting tool in the area directlyover the center roller when the specimen is in the maximum stretched state. Afterflexed for specific cycles at a specified speed through a 90-degree angle, the final cutlength on the surface of the specimen is measured using a measuring magnifier tocompare with the initial cut length before the test to get the cut growth for determiningthe flexing resistant performance of the test sample.
How to Carry Out the Whole Shoe Sole Flexing Testing steps
1.Prepare the test sample and mark the point on it for later insertion of a cut.
2.Remove the heel from the outsole and clam the outsole according to the standard. Make sure the outsole would be fully flexed in the right position.
3.Pierce the test piece at the point above the mandrel using a cutting tool when the specimen is at maximum flex position,then measure theinitial length of the cut.
4.Actuate the bending tester to conduct the test for 30,000 cycles at a constant speed between 135 cycles /min and 150 cycles/min.
5.At completion of given cycles, measure the latest length of the cut again and minus the length of the cut before the test to get the cutgrowth.