What Does "Slip Resistant" Mean?
In terms of footwear, slip resistance is the amount of resistance the sole of the shoe exerts while moving over the walking surface. Slip resistance is measured in Coefficient of Friction (COF), which is equal to the ratio between the maximal frictional force that the sole of the shoe exerts and the force pushing the sole across the surface.
What is slip resistance testing?
A slip resistance test is a precise measurement of the slip resistance between footwear outsoles and flooring surfaces.
We can test a wide range of footwear on various surfaces and simulated conditions, including dry and wet clay tile as standard, carpet, wood and vinyl flooring. We test both adults and children's shoes for slip resistance.
Why carry out a slip resistance test?
Slip resistance testing is a safety critical test for footwear. The anti-slip performance is not only the key content of evaluating the quality of the sole material, but also the main physical item to measure the safety, comfort and health of wearing. Due to the intricacies of the types of shoe materials, the difference in sole structure, and the diversity of finished shoes, sports venues or occasions, affected by this, the anti-skid performance and effects of shoes are uneven. In this regard, in-depth and comprehensive understanding of various factors affecting the anti-slip performance of footwear, research on anti-slip performance indicators and detection methods, whether it is in the development of new varieties, the improvement of production processes, or the guidance of footwear design, have an important promotion significance.
Footwear Slip Resistance Tester Principle
Place specimen on test stand, and glycerin as a lubricant, exert a certain load, and move test bench in horizontal direction compared with sample by lateral traction forces, to measure dynamic friction and calculate kinetic coefficient of friction.
Standards of footwear Slip Resistance Tester
ISO 13287, GB/T 28287, ASTM F2913, SATRA TM 144, ISO 24267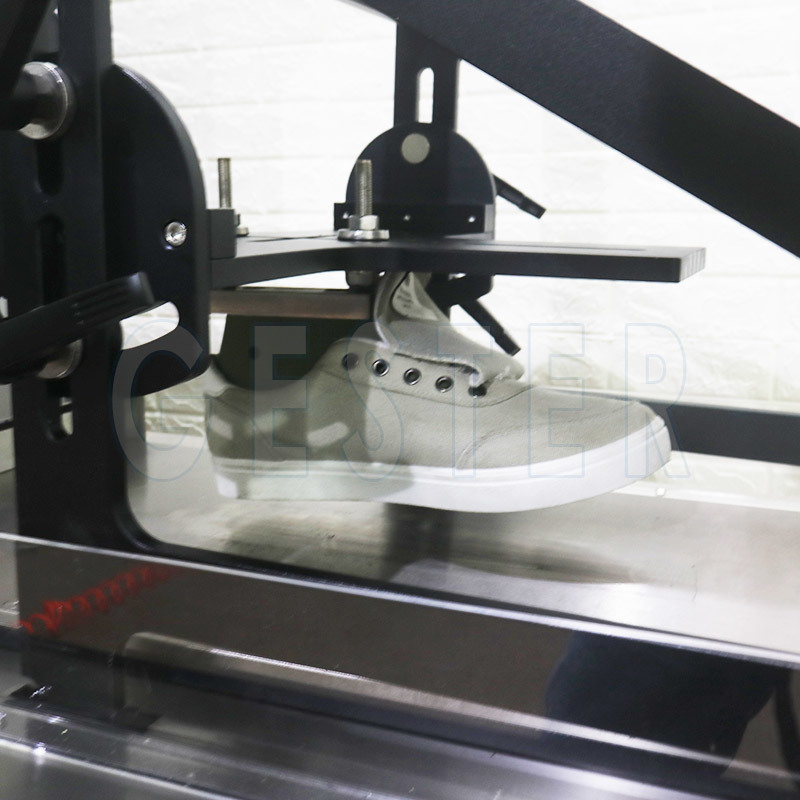 Feature
1. Slip resistance tester equip with computer and operation software, which is complied with ISO 13287, GB/T 28287, SATRA TM 144 standards. Client can choose the relative test method above mentioned, and also can specify custom settings for test parameters.
2. Equip with high precision load cell of Transcell (American Brand).
3. The slipping device is driven by a high power servo motor, that can speed up to a specified value in a short time.
4. The normal force application device is adopting a low friction air cylinder of Japanese SMC brand, which can up to the value of standard specified quickly.